Covenant House is a human service nonprofit helps stabilize homeless and trafficked youth, with a mission to help showcase the reality of youth homelessness. Associate executive director, Hugh Organ oversees Covenant House's operations and services, including a 75-bed shelter and street outreach team that goes out and meets kids on the street with the goal of providing them shelter. 
Organ explains, "When we do street outreach on different corners in parts of the city, most people wouldn't consider the youth we meet as homeless. A lot of times they see youth as the invisible homeless, because you have kids that are moving from pillar to post, staying with one friend to another friend, or maybe staying with this family member … so they're not visibly on the street like you see with the older adult population of homeless. We shelter over 600 kids a year who've been homeless, with most of them between the ages of 18 and 21."
The shelter offers educational and vocational training to help kids find and land a job. Organ added, "We also have a clinic onsite providing medical services in partnership with Children's Hospital of Philadelphia, so any medical needs the kids may have can be met by the doctors here, or if not here, we can take the kids down to CHOP to have them met there. We also have a psychiatrist on staff, a drug and alcohol counselor and a drop-in center in York, Pennsylvania that provides basic services like food, showers, laundry, things like that. We have a 10 bed shelter out there and do street outreach as well."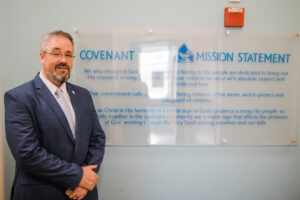 The stigma associated with homelessness often shapes society's views of youth that deal with such debilitating circumstances. "It's removing that stigma that there aren't any homeless kids and also removing the stigma that homeless kids are bad," Organ explained. "A lot of these kids end up being homeless through no fault of their own, just bad circumstances at home. Some family members just die. I have a high school kid here now who was living with his grandmother before she recently died, so now he's homeless because there's no other family to take care of him." 
According to Organ, roughly 46 percent of the kids he works with at Covenant House are kids that had contact with the child welfare system prior to turning 18. For many youth, after they turn 18 they have nowhere to go and end up on the streets. "A part of it is, the kids sign themselves out when they turn 18," Organ said. "That plays a part in this, because most kids that have been in the child and welfare system are ready to get out and be on their own. [They] may not realize [that they] still have services available to [them], like maybe getting [their] own apartment or independent living. So that's a piece of it in getting kids to understand [that] at 18 there may still be other resources they can use. DHS and Children and Youth Services as a whole are doing a better job in reaching out to kids and giving services, even past the age of 18, if kids want them. There's been a big movement in the last five years to address the youth with nowhere to go." 
Organ is steadfast in helping Covenant House work against human trafficking, a crime that frequently targets transient youth. "Runaway and homeless youth are the most vulnerable kids when it comes to traffickers. We did a study with nine other cities that surveyed almost 1,000 kids and found that almost 20 percent are trafficking victims," Organ said. "The number one reason that kids get trafficked is instability in their home. Traffickers prey on people's vulnerabilities. If you're not eating regularly at home and a guy comes to buy you a phone and meals, you trust a trafficker. Traffickers sell love. They promise you a better life and they're just setting you up to be sold on a corner or out of a hotel or on the internet."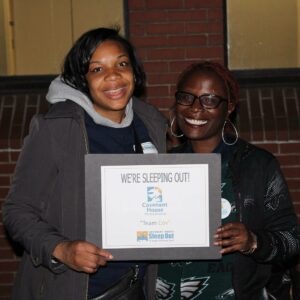 Fundraising is a major priority for Covenant House, and its Sleepout event is an unorthodox way of raising awareness for homelessness. "The Sleepout is one of our more successful fundraisers and we have a candlelight vigil to raise awareness for homelessness," Organ said. "We recognize all of the kids we have lost to drugs and violence over the years. Kids talk about their experience at Covenant House and then attendees sleep outside with a cardboard box and a sleeping bag and it makes people keenly aware of their surroundings. It helps give people an idea of what these kids are going through. I've found kids under bridges and in the subway system here in Philadelphia, sleeping in Love Park on benches, and those aren't safe places to sleep. For us, the Sleepout lets people experience a little bit of what it's like to be homeless. It really is an eye-opening event and people that go through it are really touched." 
Organ can enthusiastically share a number of success stories of kids who had been through Covenant House. "We've had kids who've gone on to college," Organ said. "I have a kid who travels the world singing as part of the Navy's choir. I have a kid who's a police officer. I've had kids that have gone on to graduate college. That's the beauty of Covenant House. When you give these kids resources, they flourish. I got college graduates who used to be homeless. You don't think of that at times. These are great kids, they just need support and a lot of times when they get support they go on to do great things." 
"The thing that really astonishes me when working with these youth is that after all of the hell they went through, most of them want to go back and help people. They want to be social workers or police officers or do something to give back. We've had kids work here. We had one staff member that we used to work with as one of our first youths in Philadelphia and he's been a staff member here for almost 12 years now. That willingness to give back is one of the most astonishing things."
This article was written in partnership with The HIVE at Spring Point. The Hive is a collection of organizations, individual practitioners, and youth who focus on strengths-based youth development that empowers young people to make positive change in their lives and their world.