After years of grassroots community effort alongside a raft of City partnerships, Philly finally has its own Rail Park—but that's just the first phase. What's next for other sites along the abandoned viaduct, which city agencies and groups like the Friends of the Rail Park hope to redevelop in future? That's the question at Site/Sound: Revealing the Rail Park, a free, public, interdisciplinary arts festival happening at three sites through October 19.
Site/Sound, with a huge roster of events including film screenings, interactive arts experiences, tours, workshops, and live music, was created in partnership with the Friends of the Rail Park, Mural Arts Philadelphia, and the American Composers Forum (ACF). Site/Sound curator Gene Coleman, a composer, video artist, and director of ACF's Philly chapter, told CityWide the process of launching the festival was "really eye-opening."
Mural Arts executive director Jane Golden, speaking at a preview of the installation Aspect 281, now open in the east parking lot of 990 Spring Garden Street, said Site/Sound had its seeds in a 2016 partnership between Mural Arts and ACF.
Mural Arts was inspired by the work of the "small, scrappy" Friends of the Rail Park group, she said, and how they believed in something long before it became a reality: "It made us want to work here." The success of the partnership with ACF three years ago made Mural Arts want to connect with the group in a bigger way, and "it was really obvious we should do it here," Golden said of the hopeful future Rail Park sites flagged in the festival. 
Mural Arts commissioned three teams of artists for three separate Site/Sound installations, with support from the William Penn Foundation, PNC Arts Alive, PECO, and other partners, including the Community College of Philadelphia and SEPTA.
Aspect 281, from artist team Carolyn Healy (visuals and lighting) and John JH Phillips (sound and video), fills a narrow lot squeezed against the north side of the viaduct just before it crosses Spring Garden between 9th and 10th Streets. 
Phillips called it "a very anonymous, nobody-ever-looks-into-this-parking-lot kind of space," and said neighbors have been curious about the installation process. 
The immersive piece is inspired by a time when, as Phillips said, "Philadelphia was chock-a-block with railroad tracks," industrial arteries that defined our city. Aspect 281 includes realistic scaled-down railroad tracks snaking over the ground, giant steaming pillars reminiscent of historic locomotive smokestacks, evocative railroad signage, an "electro-acoustic" train-station soundscape, and two video pieces projected on an outdoor wall. 
Aspect 281 will be open to the public every night Thursday through Sunday from 5-9pm for the run of the festival, with both artists on hand, and an exciting roster of live music slated for Saturday, October 12 and Saturday, October 19. 
In the rear lot of 990 Spring Garden, artist team Erik Ruin and Rosie Langabeer created Soon/ Now/ Gone. They were inspired by the Victorian era, when technologies like the railroad and photography and the birth of cinema "began to be used as a way to capture, collapse, and re-deploy time." 
"I wanted to make our installation more intimate than the other installations," Langabeer explained. They created zoopraxiscopes, a machine invented by Eadweard Muybridge in 1879, pre-dating modern moving pictures with hand-drawn images on rotating glass disks whose projections create the illusion of motion. 
Individual Site/Sound-goers will activate the zoopraxiscopes in the viaduct tunnel for themselves, alongside customized pieces that Langabeer called "a combination of soundscape and music," letting users alter pitch, reverb, and sound effects to creative unique soundtracks for their projections.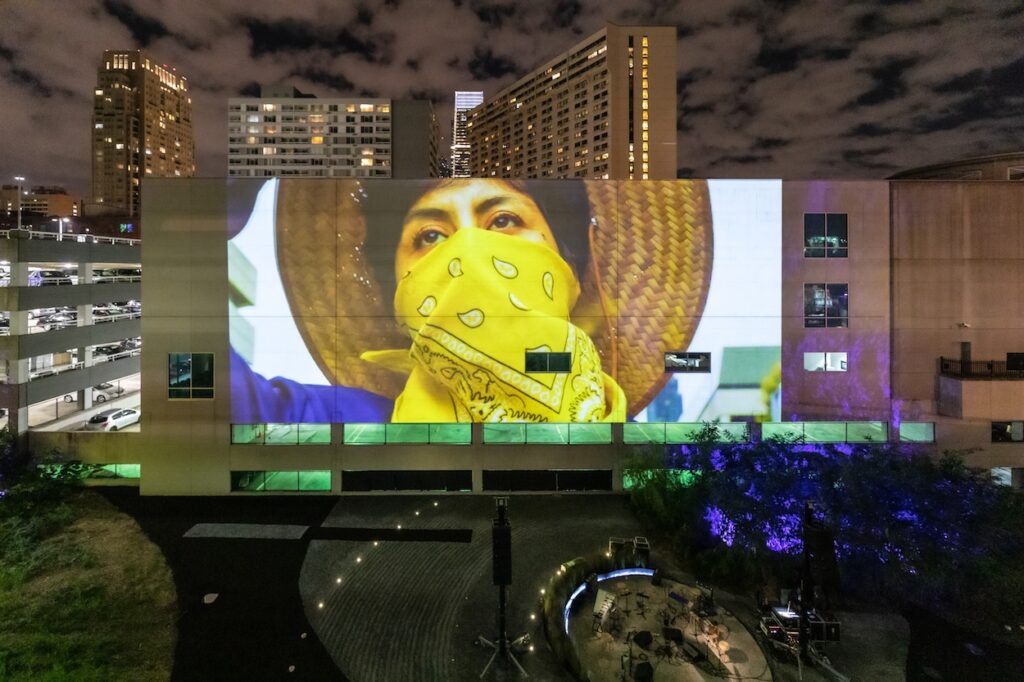 Over at a site known as the Cut, a spot usually not open to the public between North 17th and 18th Streets just above Callowhill, artists Nadia Hironaka, Matthew Suib, and Eugene Lew created Moon Viewing Platform. This installation transforms another vacant area into a large-scale performance and gathering space featuring music and screenings of short films. 
"We want to recognize that it's a borrowed landscape," Lew said, calling the karesansui-inspired space (like a Japanese dry landscape garden) "a collaboration with the environment." It felt special for the artists to work in a space not typically open to the public, "but I can safely say I hope that it will be accessible to the public because of the Rail Park." 
Curating all this on the three sites took a lot more time than Coleman anticipated. "I thought this stuff'll just get ironed out or buttoned down in a month or so," he said of approaching the project initially, but "it took months and month and months" to coordinate with the many owners of these spaces, handling permits and liability issues. 
"As the Rail Park tries to develop, that will be an ongoing narrative," he said of the administrative side of opening these spaces to the public, in any capacity. 
Coleman is especially excited about the musical aspect of the event, highlighting how unique it is to bring live world-premiere music "into a relationship with the installation"—something you don't often experience, indoors or out. 
Many musical artists and groups will appear at Site/Sound, including BEEP, Bismuth Quartet, Hprizm, Erik Ruin's Ominous Cloud Ensemble, and the Transonic Orchestra.
The latter is a special project Coleman helmed for Site/Sound. He wanted to create a brand-new crew that brought together musicians and traditions of different backgrounds: "an ensemble that is kind of like an immigrant orchestra." He worked his contacts in Philly and New York and assembled a group of nine including the sounds of electronica, an oud, a Japanese koto, a Korean saenghwang and piri, a tango-style bandoneon, percussion, cello, violin, and trombone. (You can hear the whole ensemble on Saturday, October 12 for three 30-minute performances starting at 6:30pm.)
He hopes the Transonic Orchestra will have an ongoing relationship with the developing Rail Park. He was inspired by working with similar groups in London, Berlin, and Amsterdam, and said this kind of music is a growing trend as immigration increasingly transforms societies around the world. He's glad to bring it to Philly's streets, free to the public, as part of the festival. 
"It gives us an opportunity to highlight the unfinished sections of the Rail Park," Friends of the Rail Park executive director Kevin Dow said of Site/Sound, "and we hope serve as inspiration to Philadelphians to get the rest completed." 
Visit the Site/Sound festival online to check out the full schedule of events.
Lead photo: Moon Viewing Platform by Nadia Hironaka, Matthew Suib & Eugene Lew, October 5, 2019. Photo by Steve Weinik.