Every summer weekend, Philly-dwellers go "down the shore" in droves, but for those in the know, there's a lot more to do than hit the beach and boardwalk. From humpback whales to ghost crabs and unparalleled views of millions of migrating birds, the Jersey Shore is an ecotourism destination like none other in the country.
"People spend a lot of money on scopes and binoculars, but really all you need is your eyes," says Edwin B. Forsythe visitor services manager Keena Graham. A 16-year veteran of the National Park Service, the Alabama native worked at wildlife preserves around the country before coming to this New Jersey gem about a year and a half ago. Graham loves it when a visit to the refuge helps locals and city-dwellers alike realize we're all part of an extraordinary ecosystem that needs our protection.
Take a drive across the Ben Franklin or Walt Whitman bridges into New Jersey and roll down the Atlantic City Expressway for an hour, and you'll hit something pretty unexpected for the most densely populated state in the country: 47,000 acres of protected nature.
Once you pull up at the visitors center at the Edwin B. Forsythe National Wildlife Refuge (where on a clear day the casino towers of Atlantic City are visible across the bay about ten miles to the southeast), you may feel like the beach can wait.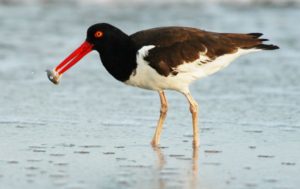 The Forsythe refuge got its start in the late 1930s, Graham says, originally to protect rapidly disappearing birds like brant, a small goose. As New Jersey funnels down to Cape May on the Delaware bay, its shores are a highway for migrating birds. Before the land was protected, birds were killed by the thousand for their feathers, or, as Graham puts it, by "sport hunters not being so sporty," indiscriminately shooting masses of birds.
Thanks to the Endangered Species Act of 1973, many birds on the brink of extinction in the 20th century are recovering, but others face new challenges, including many that shelter and nest at Forsythe, like striking orange-beaked oyster catchers, black skimmers, and least terns.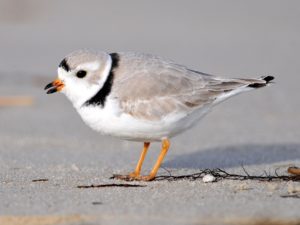 The piping plover, once an abundant bird on the Atlantic coast, is now endangered. We curbed the over-hunting of birds for feathers and sport, but then we began to destroy their habitat. Graham explains that America's surging post-WWII middle class meant a coastal building boom, and the plovers lost their nesting grounds. Now, she says, the Forsythe preserve (including the northern tip of Brigantine Island) and parts of Island Beach State Park to the north (also a great nature destination) make up the nesting grounds for one third of the entire population of piping plovers in New Jersey: "Protecting them is crucial now."
The Forsythe refuge is open year-round, and its eight-mile Wildlife Drive is a highlight, winding through the woods as well as along the salt marsh and bay for prime bird-spotting from the car. There are also several hiking trails within the refuge (Graham especially recommends the deCamp Wildlife Trail in the northern part of the preserve, a little-known pleasure), as well as spots to launch boats or kayaks for fishing or birdwatching (try Scott's Landing, Graham says—it's often overlooked, but it's a perfect place to access the water).
A wide boardwalk over the salt marsh, close to the visitor center, is accessible for anyone who wants a closer look at the marsh wildlife at low tide, including a mesmerizing landscape of water and waving grasses, full of fiddler crabs and fish. In the summertime, you can spot turtles like terrapins and snappers, plus eastern kingbirds, great blue herons, egrets, and many other striking birds.
While you're in the neighborhood, Brigantine's Marine Mammal Stranding Center is worth a stop, especially for families. This non-profit rescue and rehabilitation center for stranded marine mammals (like small whales and seals) and sea turtles receives no government dollars (despite strict federal laws protecting these animals), and donations and gift-shop dollars from visitors support critical animal rescues. There's a small but engaging marine-life museum, an outdoor salt-water tank perfect for captivating close-up views of native tidal creatures, and often, a live video feed of a marine mammal recovering in private on-site facilities.
For another nature-centered experience, visit the Wetlands Institute in Stone Harbor. There are a variety of educational exhibits and fun activities, including a "Salt Marsh Safari" on an elevated walkway over the marsh, dune and beach walks, daily feeding times at the on-site aquarium, and chances to try a seining net in the bay at high tide, to meet the creatures swimming there.
Throughout the summer, you can also participate in a special volunteer program for the public called reTURN the Favor, which saves threatened horseshoe crabs (one of the species the Wetlands Institute focuses on). Horseshoe crabs, besides being just plain cool as a species (doing their thing on planet Earth for 445 million years), are a literal lifesaver for us. Their blue blood transports oxygen in a different way than ours does and has evolved a specialized method of fighting infections. We've been able to harness this quality of the crabs' blood to perform speedy tests for bacteria on things like vaccines and medical equipment.
But the horseshoe crabs are also a vital part of an ecosystem that stretches all the way from the southern tip of South America to the Arctic Circle, thanks to migrating birds. Imagine traveling 18,000 miles every year, like a shorebird called the red knot. It flies 9,000 miles each way, from summertime in the arctic (where they breed) to Tierra del Fuego (where they spend the winter) and back again. And the Delaware Bay, where they feast on horseshoe crab eggs, is their most important rest stop.
They arrive on the Jersey Shore in May and June, but now they're struggling, because the Delaware Bay, which has the largest population of spawning horseshoe crabs in the world, has lost 90 percent of these animals in the last 15 years, due to over-harvesting and habitat loss. There aren't enough eggs left to properly feed the red knots and many other migratory birds. The Wetlands Institute collects and hatches horseshoe eggs to release babies in the bay once they have a good chance of survival, but it also leads the public in beach walks that have saved 275,000 adult horseshoe crabs since 2013. The helping hand is simple: crabs often overturn on the beach in the surf and die without someone to flip them over. You can sign up for a walk online.
Further south, where the tip of New Jersey meets the Delaware Bay, there are a pair of wildlife centers that are can't-miss stops for East Coast nature enthusiasts. The Cape May Bird Observatory even holds the World Series of Birding each May, as hosts of migratory birds descend on the bay. It's operated by Audubon New Jersey, along with its sister site, the nearby Nature Center of Cape May.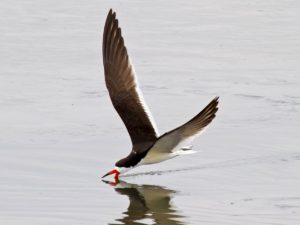 Programs at the observatory and nature center, says Nature Center director Gretchen Whitman, have something for everyone, from "novice birders to people that want to take full three-day workshops on warblers." And accessible observation decks make sure that birding in Cape May is open to people of all abilities.
Despite the fact that most people might think of beaches and Victoriana when they think of Cape May, it's really "known as one of the top places in the world to see birds and go bird-watching," Whitman adds. Depending on the location and season, this ranges from rarely-seen songbirds to epic migrators like the red knot, and raptors like hawks, ospreys, and eagles.
The nature center was "basically a grassroots effort of people coming together and trying to save a piece of land from development," Whitman says of a campaign in the late 1980s and early '90s to stop a massive and unsustainable Cape May Harbor development and reclaim the land as protected habitat and a place for education and research. (It came under the Audubon NJ umbrella in the mid-'90s.)
The many popular and affordable programs there include Thursday night ghost crab beach walks. Cape May is also "a rich, abundant area to see marine mammals," Whitman says. These include dolphins and humpback whales in the Delaware Bay. The nature center partners with many locally based for-profit operators, like Cape May Whale Watchers, to spot some of the Atlantic coast's most majestic wildlife, or take a relaxing and educational pontoon-boat ride with Salt Marsh Safari. There are also biking and kayaking tours and rentals.   
"Eco-tourism in the county is going to go up," Whitman insists. "People realize they need to disconnect from technology and reconnect with the natural world and outdoors. There's a lot we can offer down here."
While they fight for their lives in disappearing habitats, "Birds never asked us to do anything," Graham says. "When we protect stuff it's for us, mainly our human reasons … [But] we're all part of the same ecosystem," from butterflies to whales. And their beauty sustains us. "So many people find solace in watching wildlife."